Taxi crash in Taichung City leaves 1 dead, 1 injured: suspected drunk driving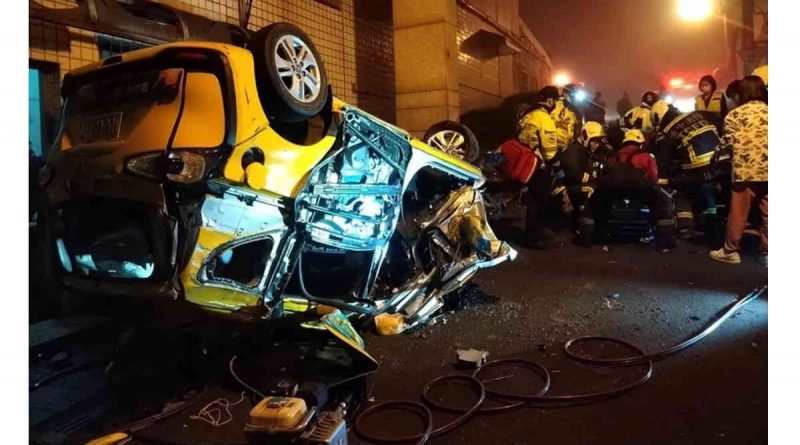 A taxi driver who died in a crash in Taichung City last night is suspected to have been drunk driving after post-mortem blood tests showed an alcohol level over the legal limit.
Taichung City Fire Bureau received reports of a car accident on Dongda Road in Daya District at 11:43 pm. TCFB dispatched one fire truck, two ambulances and 9 personnel to the scene of the accident.
Firefighters found the 30-year-old driver, named Wang, without vital signs and trapped in the wreck of the overturned taxi. A 54-year-old passenger, named Yu, was able to get out of the car on his own. Yu suffered head trauma, chest pain, and was sent to Kuang Tien General Hospital. Firefighters used hydraulic cutting equipment to free Wang from the vehicle, and rushed him to Taichung Veterans General Hospital, but Wang was declared dead shortly after arrival.
Blood tests showed that Wang had a blood alcohol level of 0.5 mg/l, double the the legal limit of 0.25 mg/l.
According to the police investigation, Wang picked up the passenger and drove westward on section two of Dongda Road via Qingquan Road. For some reason, Wang lost control of his vehicle, and crashed into a concrete pillar of a house on the corner of Lane 1100. The taxi then collided with 4 vehicles parked on the roadside and rolled over onto its roof.
Police found no brake marks on the ground, and noted that road conditions were slippery due to rain. The cause of the accident is still under investigation.
Drunk driver injured in single-vehicle accident in Hsinchu County
In related news, a drunk driver lost control of his vehicle and crashed into a row of motor scooters before crashing through a guardrail and landing in a large drainage channel in Zhubei City last night.
At around 6:00 pm, a 46-year-old man, named Zeng, knocked down a row of motorcycles parked on Zhuangjing Seventh Street, and continued at high speed across the T-intersection of Shengli Eighth Street before crashing through a guardrail and plunging 5 meters into the concrete channel of the Douzipu stream.
Zeng's SUV landed on its roof, and Zeng was unconscious when firefighters arrived at the scene of the accident. Zeng was rushed to hospital where a blood test showed an alcohol level of 1.26 mg/l, exceeding the legal alcohol limit of 0.25 mg/l by a factor of five.
Police are currently investigating the cause of the accident.
Taiwan English News is an independent publication with no corporate funding. Subscribe to Taiwan English News to receive the latest news via email. Advertising queries are welcome. Share, like, comment below, and please, buy me a coffee. I really need it.